This month started in the less expected way possible. And that was by watching Ferdinand with my little cousin. It's a movie about a bull who's raised to become a fighting bull. If you don't know what that means, you probably live outside of the Iberian Peninsula.
Overall, I think it's a fun movie, it raises awareness about the inhumanity of touradas.
Then, I picked up Bookburners and read Shore Leave (Season 1 Episode 10) by Mur Lafferty. I absolutely love this episode, specially because it centers around Grace.
The same day I read Shore Leave, I finally finished The Year of the Death of Ricardo Reis by José Saramago. To be honest, this was a somewhat fun book. Its ending was expected (it's in the freaking title!) but Saramago still managed to make it weird to understand. Did he go and kill himself? Did he just decide to hang out with Pessoa one last time? Who knows? Not me.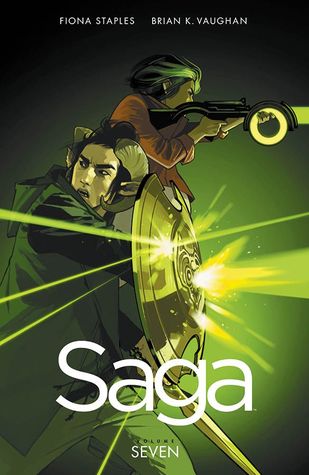 Later on, a friend of mine visited and borrowed Saga Volume 7 by Fiona Staples and Brian K. Vaughan, which I read in its integrity the day after. Oh, how I missed this series, it's too bad I can only read one volume per year.  It's a translated work, there are some things that still feel off, but it always gets me on a reading high.
Later on in the month, I finished reading this month's Book Club Pick – Ice Massacre by Tiana Warner. As you probably already know, I absolutely love this book, the universe it created was interesting and the author's writing is absolutely mesmerizing.
Continuing on the Bookburners spree, I read Codex Umbra (Season 1 Episode 11) by Max Gladstone. This episode is amazing, it lets us know how Norse came to be like he is and answers some questions we've had since the beginning of season one.
After it, I read Puppets (Season 1 Episode 12) by Brian Francis Slattery. Overall, it's a great episode and I can't wait to read the next one, I have a feeling the season's finale will blow me away.
Later on in the month, I finished watching Dark's first season. This is the first German show I've ever watched, it was weird to not understand what the characters were saying and having to read subtitles, however, it's worth it. I have to tell you, this show's amazing and I can't wait for season two.
Continuing on the Bookburners binge, I read Keeping Friends Close (Season 1 Episode 13) by Mur Lafferty. Honestly, I'm glad it ended this way, if the arc were to be longer, it probably wouldn't work for me.
Then, to finish the month with a bang, I finished reading The Diary of a Young Girl by Anne Frank. Overall, it's a heartbreaking story about what it took to survive during the Holocaust. It's a book that everyone should read, not because of its quality (it isn't mind blowing) but because of what it means.