This month started with a finale that I waited for way too long to watch. Black Sail's fourth season is definitely its weakest. I think the plot was stretched out for way too long. The thing I loved the most about this show (its pacing) definitely became the show's undoing. It felt as though the writers only had material for a few more episodes but, to air them, they had to make a whole new season.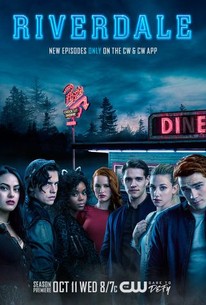 And because I can't control myself, I watched Riverdale's second season. Overall, it was fun, I definitely binged it. It did have some holes, but they can be seen as the characters not being able to see their actual situation with clear eyes.
And given that I wanted to read something other than The Maias, I read Spectacle Volume 1 by Megan Rose Gedris. This was a really fun book featuring three things that I absolutely love – mystery, circus life and demons. Overall, I'm glad I picked this up.
And going from great to pretty bad, I read Night's Dominion Volume One by Ted Naifeh. Oh, boy, was that confusing. The characters were inconsistent and it felt like the author thought about the plot so much that he actually forgot that we, readers, need context. This book had so much going on that there was a point in which my brain turned off and I simply looked at the pretty pictures.
I also watched Monty Python and The Holy Grail. I had a great time watching it, I particularly loved the whole coconut ordeal. Are there any other Monty Python films that I should watch?
Then, I finally finished The Maias by Eça de Queirós. What a painful book. I didn't really care for the characters and the plot advanced awfully slowly.
I also read Kaijumax Season One: Terror and Respect by Zander Cannon. Overall, this felt like Manga Classics: Huckleberry Finn – it wasn't bad but it wasn't good either. It left me with an overwhelming sense of indifference, which isn't good. Also, the whole plot felt expected. I know this is supposed to teach us about how prisons treat inmates but, if you want to learn that, read Shawshank Redemption or watch Orange is the New Black. Both those things are entertaining and will teach you that prison is hell and so are the people inside it – inmates, wardens – even if they sound nice. You'll get back stabbed. You'll get your cavities searched to a degree that shouldn't be legal. You'll bleed. Those two works taught me that. However, Kaijumax wasn't able to leave the same impression in me.
Given that my sister told me to read it, I read Shadows and Dreams (ReMade Season One Episode One) by Mathew Cody. Overall, I think this was a nice first episode. It sets the world up and we get to know the main characters. It left me with some questions too. However, I didn't feel the excitement that I felt while I read Bookburners' pilot.
I also read Chew Volume 8: Family Recipes by John Layman. This book was really fun – it even had Toni again. Also, I read the previous volume a long time ago, I missed these characters.